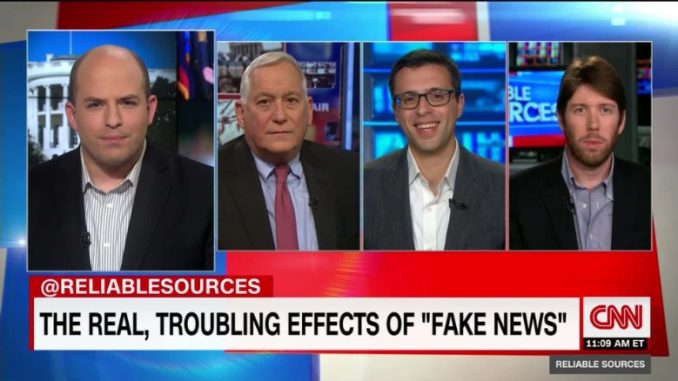 Citing his frustration with CNN's "fake news," a man threatened to commit a mass-shooting at the far-left network's Atlanta headquarters, according to authorities.
(Breitbart) Authorities claim that 19-year-old Brandon Griesemer made some 22 phone calls to CNN last week. The first calls apparently were complaints about the network's "fake news." Over time, though, the calls became threatening.
In one phone call, Griesemer said, "Fake news. I'm coming to gun you all down."
In another, according to authorities, he threatened, "I'm smarter than you. More powerful than you. I have more guns than you. More manpower. Your cast is about to get gunned down in a matter of hours." He added, "I am coming to Georgia right now to go to the CNN headquarters to f—ing gun every single last one of you."
ABC News reports that court documents say the man used slurs against CNN's black and Jewish employees.
Griesemer lives with his parents and was arrested at home after authorities traced the call. He is currently free on a $10,000 bond.
CNN's Ana Navarro, one of the last-place network's far-left commentators, predictably blamed President Trump for the threat against her employer. As of now, though, and while nothing excuses or justifies any kind of death threats, there is no proof that anything other CNN's own fake news crisis might have provoked a man the New York Post describes as a "maniac" and "increasingly deranged."
The man's calls to CNN occurred on January 9 and 10, the days that immediately followed CNN's Jake Tapper hurling childish insults at White House senior adviser Stephen Miller. The calls also came after a full week of CNN —  using only Michael Wolff's sketchy book as a source — went into hyper-drive to push the fake news that Trump is mentally ill.
This was also the week after CNN's Brian Stelter openly trolled Trump by attempting to get the president banned from Twitter.
CNN's website was just as provocative during this week. Based again on a book the author himself cannot say is accurate, on two separate occasions, CNN floated the idea of removing Trump from office based on the 25th Amendment for mental incapacitation. CNN, however, is floating this idea with no physical or medical evidence to back up these wild insinuations.
CNN also published snark pieces titled "How Trump can prove he's 'very stable,'" "Trump defends his sanity amid questions about his mental state," and "Tillerson says he's 'never questioned' Trump's mental fitness." Most of these irresponsible pieces were discussed ad nauseum on the air. During an interview with Secretary of State Rex Tillerson, he was asked if he questioned Trump's "mental fitness."
Newsbusters reports that on Jan 4, just four days before the threats allegedly began, CNN's Wolf Blitzer spent over 20 minutes "insinuating Trump is mentally ill." During these primetime hours, name guests such as CNN's Gloria Borger, Leon Panetta, and Washington Post reporters were brought in to comment on Trump being an unstable head case.
Not only did CNN flood the zone based on Wolff's questionable reporting, but the network did so without once consulting a medical professional who had even met Trump, much less examined him.
The following week, the fact that this was all fake news was proven once and for all after the White House doctor informed the press corps that Trump has scored a 30-for-30 perfect score on a difficult and respected test for mental fitness.
CNN released a statement Tuesday night addressing the threat:
We take any threats to CNN employees or workplaces, around the world, extremely seriously. This one is no exception. We have been in touch with local and federal law enforcement throughout, and have taken all necessary measures to ensure the safety of our people.
[adrotate banner="24″]

[pt_view id="517b65fj16″]