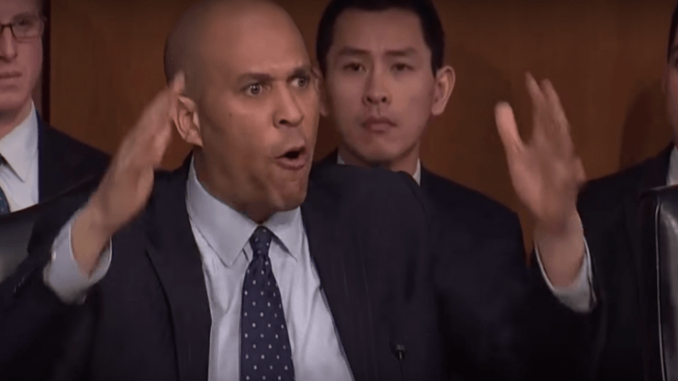 Now this took place in Corey Bookers district…yet he had no "tears of rage' for this little girl and her family.
On October 7th, 2017 FOX News reported the following:
An illegal immigrant in New Jersey is accused of raping a 6-year-old girl then jumping out of a second-floor window after her father walked in during the assault, police said.

Edgar Mendoza, 32, is accused of breaking into a Trenton, N.J. home at about 1:30 a.m. on Sept. 19 and molesting a 6-year-old girl while she was in bed, according to the Trentonian. Her father realized something was amiss when he noticed an upstairs light was turned off, according to the Star Ledger.

When the father entered the bedroom, he found Mendoza on the young girl's bed, police said. Mendoza leapt from the second-story window and ran off, police said. The father called police.

Two adults and two children were in the home at the time of the assault, according to the Trentonian.

Mendoza, originally from Guatemala, faces charges of burglary, endangering the welfare of a child, sexual assault and aggravated sexual assault, the newspaper reported.

Detectives stopped Mendoza after the attack and the girl's father identified him, police said. Detectives later discovered the girl had been sexually assaulted, the Trentonian reported, and she was taken to the hospital for treatment.

Mendoza's cell phone was found near the home, police said.

Mendoza agreed to remain in jail while his criminal case moves through the courts.

"Due to my situation here, the fact that I don't have my papers and the fact that I am facing those charges, I think I am going to have to be detained," Mendoza said during the hearing, according to the Trentonian.
But when Dick Durbin comes forth accusing President Trumps of allegedly disparaging third world countries as being "shitholes" (allegations which have yet to be proven), it's more than he can handle causing him to "seethe with anger" as he puts it.  Does this not smack every constituent that voted for him right in the face? Do they not see the hypocrisy of these so called representatives?
Here Laura Ingraham weighs in on Cory Booker's "Tears Of Rage" Outburst: "That's Bad Acting"
[embedyt] https://www.youtube.com/watch?v=gtQeR3h2nkE[/embedyt]
Ingraham said, "If C-SPAN handed out Best Supporting Actor awards, a gold statuette would surely go to New Jersey Senator Cory Booker."
From Tuesday's edition of her FOX News show:
LAURA INGRAHAM: And good evening from Washington. I'm Laura Ingraham, and this is "The Ingraham Angle." We have an unbelievable show for you tonight. Chock-full of an hour, but we will get through a bit. We have an unbelievable lineup of guests of course.

We got Monica Crowley, Juan Williams, Corey Lewandowski, they were all weigh in. We are using weigh in, isn't that fun? As the Democrats latest plan to derail the Trump train. Good luck with that.

We also have Marco Rubio's take on the brewing fight over a DACA compromise, and John Bolton is here with the dramatic details of a call between President Trump and President Xi of China. Could a confrontation be brewing?

And a Democrat whose known Donald Trump since the Nixon administration tells us why the president is no racist.

But we begin with liberal stunts versus conservative solutions. That's the topic of tonight's "Angle." Today was the day of histrionics and hyperbole on Capitol Hill as the DHS Secretary Kristin Nielsen was interrogated by senators on the Judiciary Committee.

If C-Span handed out best supporting actor awards, a gold statuette would surely go to New Jersey Senator Cory Booker.

SENATOR CORY BOOKER, D-N.J.: Why am I frankly seething with anger? The commander in chief, in an oval office meeting, referring to people from African countries and Haitians with the most violent vulgar language, both language festers your silence and your amnesia is complicity.

The fact pattern is clear of the threats in this country. I hurt. When Dick Durbin called me, I had tears of rage when I heard about this experience in that meeting. For you not to feel that hurt and that pain, and to dismiss some of the questions of my colleagues, that's unacceptable to me.

INGRAHAM: Tears of rage, that's actually bad acting. Give me a break. Did Senator Booker cry tears of rage when this story broke in his home state of New Jersey just a few months ago? When an illegal alien named Edgar Mendoza broke into a Trenton home and raped a 6-year-old little girl?

We looked and couldn't find a single comment by Senator Booker about this heinous crime of unspeakable cruelty. Does he not feel the hurt of the child's mother and father, a crime that should have never happened, because that man should have never been in this country, Senator.

His silence is unacceptable and complicit, at least to me. Booker is simply out testing campaign themes. It's patently obvious. Oprah had her moment at the Golden Globes, and he's not about to see that spotlight back quickly. No way.

Here he was back in 2010, joking around with Private Citizen Trump. Seems pretty happy to be sitting with a racist, doesn't he? Booker's stunt today was an attempt to reinforce the President Trump as a racist narrative.

We've been saying all week. For backup, five liberal commerce men and women are staging their own stunts, they are boycotting Trump's State of the Union speech. Now home — what does that accomplish other than maybe giving them another free night to binge watch on Netflix?

Speaking of wasting time, the left-wing American press willingly lined up to do what they do best, play the Hallelujah chorus to the Democrats story line. For them, slandering the president beats reporting on his great economy any time. Facts be damned.
[adrotate banner="24″]

[pt_view id="517b65fj16″]