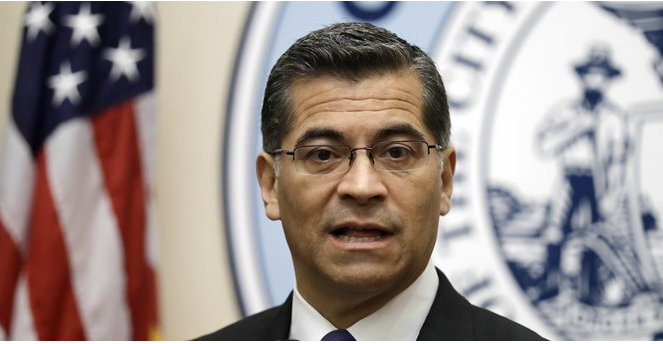 (Townhall) California's Attorney General Xavier Becerra warned businesses that they will be prosecuted for helping federal law enforcement officers with immigration sweeps.
"It's important, given these rumors that are out there, to let people know – more specifically today, employers – that if they voluntarily start giving up information about their employees or access to their employees in ways that contradict our new California laws, they subject themselves to actions by my office," he said at a news conference. "We will prosecute those who violate the law."
Businesses could be fined up to $10,000 for assisting federal immigration authorities.
SHOCK: California Attorney General Xavier Becerra (D) threatens employers who cooperate with ICE raids on illegal aliens will be prosecuted pic.twitter.com/Jm0ummMEJM

— Josh Caplan (@joshdcaplan) January 18, 2018
Becerra's warning comes as fears spread of mass workplace raids following reports that immigration agents plan to target Northern California communities for deportations due in part to the state's "sanctuary" law, which seeks to restrict local law enforcement agencies' ability to cooperate with immigration authorities. […]

Becerra said the state Department of Justice and the state Labor Commissioner's Office plan to issue formal guidance to all California employers, public and private, notifying them of their responsibilities under a new state law called the "Immigrant Worker Protection Act," signed by Gov. Jerry Brown last year that took effect Jan. 1. It seeks to prevent all workers, regardless of immigration status, from being detained at workplaces.
The move comes after acting ICE Director Thomas Homan said he's beefing up his agency's enforcement presence in the state.
"If you think ICE is going away, we're not. There's no sanctuary from federal law enforcement," he said earlier this month during an interview with Fox News's Neil Cavuto.
"California better hold on tight," he said. "They're about to see a lot more special agents, a lot more deportation officers in the state…if the politicians in California don't want to protect their communities then ICE will."
Homan also believes leaders of sanctuary cities ought to be criminally charged for violating 8 U.S. Code § 1324, which states that any person, "knowing… the fact that an alien has come to… the United States in violation of the law, conceals, harbors or shields from detection… such [an] alien in any place" could face prison time and/or fines.
DHS Secretary Kirstjen Nielsen agrees and told lawmakers earlier this week that she has asked the Department of Justice to look into the possibility of bringing charges.