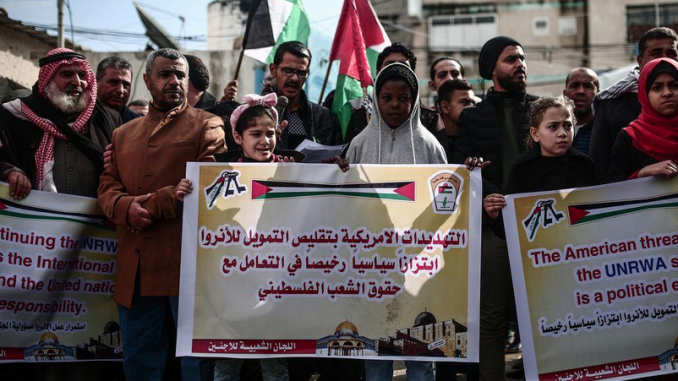 Belgium has pledged to donate 19m euro ($23m) to UNRWA, the UN's aid organization for Palestinian refugees, after the US government announced it would slash its funding to the agency by half.
Deputy Prime Minister Alexander De Croo said in a statement on Wednesday that Brussels would allocate the funds over three years.
The first annual payment is being disbursed immediately "considering the financial difficulties that UNRWA currently faces", the statement said.
Washington announced on Tuesday it is withholding $65m out of the $125m aid package earmarked for the United Nations Relief and Works Agency for Palestinian Refugees, or UNRWA.
De Croo said the Belgian government stepped up in response to the urgent call for help by the commissioner-general of UNRWA, an agency that provides humanitarian help to millions of Palestinian refugees.
"I have a lot of respect for UNRWA's work, which has to operate in the most difficult and dangerous circumstances," De Croo said in his statement.
"Living conditions in Gaza, Syria, the West Bank and elsewhere in the region are particularly tough," he added.
"For a lot of Palestinian refugees the UNRWA is the last life buoy. With the help of UNRWA half a million of Palestine children are able to go to school. This prevents them from falling prey to radicalization and extreme violence."
International condemnation
The US announcement on UNRWA's funding came after US President Donald Trump had threatened on January 2 to cut aid to Palestinians.
In a series of tweets, Trump had said: "… We pay the Palestinians HUNDRED OF MILLIONS OF DOLLARS a year and get no appreciation or respect.
"… With the Palestinians no longer willing to talk peace, why should we make any of these massive future payments to them?"
https://twitter.com/realDonaldTrump/status/948322496591384576
International NGOs sharply condemned the funding cut.
Kenneth Roth, executive director of Human Rights Watch, said in a Twitter post on Tuesday that Washington was "holding Palestinian kids' humanitarian needs hostage to political agendas".
Jan Egeland, secretary-general of the Norwegian Refugee Council, urged the US government to reverse its decision
Belgium, together with other EU member states, is now UNRWA's largest donor.
In the coming years, "Belgium, along with the EU and countries from the region, will continue to support UNRWA and the Palestinian refugees", De Croo's statement said.
Palestinian President Mahmoud Abbas is set to visit Brussels next Monday to exchange thoughts about Belgian's support.
UNRWA was established in 1949 in order to provide assistance to Palestinian refugees, who in the aftermath of the 1948 Arab-Israeli War numbered about 700,000.
The agency now offers support to approximately five million Palestinians in education, healthcare and housing, and is active in Palestinian occupied territories, Syria, Lebanon and Jordan.
SOURCE: Al Jazeera News
[embedyt] https://www.youtube.com/watch?v=MdeuXZIDYto[/embedyt]
According to FREESPEECHTIME: Trump's Vice President Mike Pence speech at In Defense of Christians summit.
The Trump administration cuts US aid to the UN and uses the money to help persecuted Christians in the Muslim world.
The UN is a useless organization which is dominated by countries like Saudi Arabia, Pakistan, Iran and Cuba etc.
Western countries should stop funding the UN.
The Islamic persecution of Christian minorities across the Middle East and the Muslim world has become genocide.
Human rights organizations of the UN and human rights organizations in the West turn a blind eye to the brutal violation of human rights in the Muslim world.
Britain, the US and Australia should stop funding the UN.
The U.N. General Assembly elected Qatar, Congo and Pakistan to its top human rights body, joining existing members such as Saudi Arabia, China, Cuba and Venezuela.
Countries that practice Sharia laws have been chosen to be human rights watchdogs.
Even a country like Iran has been given a seat in the UN Human Rights Council.
Iran Where women are stoned to death, where gays are executed in a public square.
Christians are brutally persecuted in the Islamic Republic of Iran.
Pastors are jailed for no reason, no reason other than for being Christian leaders. Christians have been lashed for sipping wine during prayer services; Christians have been brutally tortured for doing nothing more than practicing their faith.
Saudi Arabia is the head of the Human Rights Council, a country where there are no Christian citizens, even Christian migrant workers are persecuted by the authorities if they practice their religion.
No religion is allowed to exist in Saudi Arabia except Islam, anyone who leaves Islam is executed.
Pakistan is the worst country for Christians to live in.
Under sharia blasphemy law Muslims murder Christians on false charges of insulting the Prophet Muhammad and the Koran.
These countries are kidnapping the UN bodies to push the anti-Israel and anti-Western agenda.
They use the United Nations to attack Israel which is the only democratic state in the Middle East where Christians are free and women are not considered citizens in rank.
In the last two years Benjamin Netanyahu cut 90% of Israeli aid to the UN after U.N.'s Cultural Agency passed a resolution denying the Jewish and Christian connection to Jerusalem. Western countries should follow Israel – Cut all funding & Announce Withdrawal From U.N.
[adrotate banner="24″]

[pt_view id="517b65fj16″]