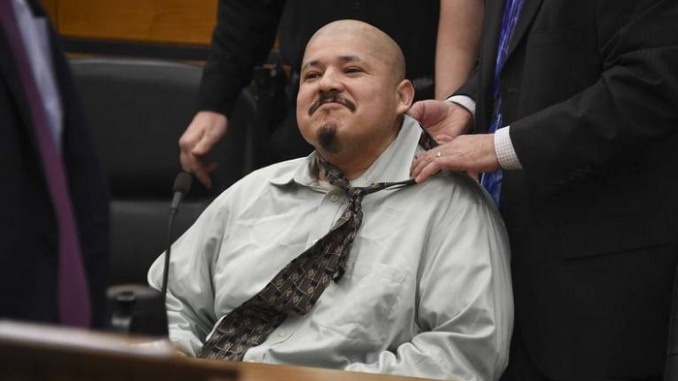 Barely two hours into the first day of trial for accused cop killer Luis Bracamontes, the proceedings devolved Tuesday, January 16, 2018, into a spectacle of the defendant threatening to kill more people, giggling as a prosecutor described his 2014 crime spree and his own lawyers once again questioning his sanity. NOTE: Contains graphic and disturbing language
 (The Sacramento Bee) There's never been much dispute over whether Luis Bracamontes shot and killed two Sacramento-area deputies in October 2014.He has repeatedly admitted to it in court hearings, and at the start of his trial Tuesday his own lawyer essentially convicted the illegal immigrant of killing Sacramento sheriff's Deputy Danny Oliver and Placer sheriff's Deputy Michael Davis Jr. in a daylong spree of violence that started in a Motel 6 parking lot near Arden Fair Mall.
"Let me be clear and up front," public defender Jeffrey Barbour told the jury hearing his case. "Mr. Bracamontes is responsible for the death of Deputy Danny Oliver and Detective Michael Davis. "He shot them both."
The statement came during an extraordinary opening day during which the proceedings devolved into a spectacle of the defendant threatening to kill more people, giggling as a prosecutor described his crime spree and his own lawyers once again questioning his sanity.
"I wish I had killed more of the mother——-," he boasted to the jury as prosecutor Rod Norgaard described the outbreak of violence.
Smiling broadly, Bracamontes added, "I will break out soon and I will kill more, kill whoever gets in front of me … There's no need for a f—— trial."
That outburst led to Sacramento Superior Court Judge Steve White briefly removing the jury, then warning Bracamontes.
"You will not disrupt this trial, you will not speak out," White told him. "If you do, you will be removed from the courtroom."
Barbour, who along with partner Norm Dawson has questioned Bracamontes' sanity, then asked the judge to reconsider his finding that Bracamontes is mentally competent to stand trial.
"Your motion is denied," White told Barbour. He then had the jury come back in and instructed them not to pay any attention to what had happened. All of them indicated they could do so, and Norgaard concluded his opening statement just before noon.
Barbour and Dawson then renewed their efforts, asking the judge outside the presence of the jury if they could enter a plea of not guilty by reason of insanity.
"We believe Mr. Bracamontes' outbursts, his laughter, are a function of his mental illness," Barbour said.
But the judge was having none of it, noting that the issue already had been litigated in previous hearings and that if Bracamontes chooses not to help his lawyers that's up to him. "He is not incompetent to stand trial," White declared.
The jury returned after a lunch break and, after Barbour conceded his client killed both deputies, he urged the jurors to listen to evidence presented that may be of use in the penalty phase, when they will have to choose between the death penalty or life in prison if he is convicted.
Bracamontes, 37, an illegal immigrant from Mexico, is on trial along with his wife, Janelle Monroy, 41. She faces a possible sentence of life in prison.
Part of the evidence defense attorneys hope will spare Bracamontes from the death penalty is the fact that after his arrest a blood test found an "excessively high" amount of methamphetamine in his system that may have made him paranoid and agitated, and that he wrote a suicide note in the house where he holed up before surrendering to authorities.
"Forgive me, God," the note read. "Please take me with you. I love you, Janelle."
Prosecutors say the suicide note was written after Bracamontes turned on the burners of the home's gas stove and tried to have it ignite to kill him and any officers who rushed in. Instead, Bracamontes crawled out of the house and surrendered meekly.
He is charged with killing both deputies, shooting a motorist in the head to steal his car and wounding another Placer County deputy in Auburn. His wife is accused of assisting Bracamontes after Oliver was killed by helping move an assault-style rifle from car to car as the couple fled authorities.
The case is being heard by two separate juries, one for each defendant. Monroy's attorney Pete Kmeto attempted in his opening statement to draw a sharp line between Bracamontes' actions and hers.
"There's no issue as to whether or not she shot anyone," Kmeto said. "She didn't."
Instead, he portrayed her as a victim who lived in fear of her husband, especially after she saw him kill Oliver.
"The evidence is going to show that this woman who loved this man and was married to him for years was stuck in a car with a crazy person," Kmeto said.
Norgaard, a Sacramento prosecutor who is handling the case with Placer County Deputy District Attorney Dave Tellman, had a different perspective, telling her jury that she moved Bracamontes' weapon from car to car as the pair embarked on a 40-mile rampage that ended in Auburn.
"They were in it together all along," Norgaard said.
The case has drawn widespread media attention, partly because of Bracamontes' status as an illegal immigrant and his history of arrests and deportations in Arizona. President Donald Trump has weighed in on the case, mentioning it during a speech to Congress last year and introducing the widow of one of the slain deputies.
Bracamontes' own outbursts in court have helped maintain the notoriety of the case, and that continued in the opening moments of Tuesday's court session.
As Norgaard described the ambush slaying of Oliver, he recounted how Oliver's partner, Scott Brown, came under heavy fire as he emptied his 15-round clip at Bracamontes in the Motel 6 parking lot near Arden Fair Mall on Oct. 24, 2014.
Brown retreated under heavy fire, Norgaard said. As he talked, Bracamontes grinned and, finally could not restrain himself.
"Coward," Bracamontes said of Brown, who had just seen his partner killed.
At one point, as Norgaard described the wounding of Jeff Davis (no relation to slain Deputy Michael Davis), Bracamontes interrupted again with, "Cause he's stupid."
That drew a sharp rebuke from the judge: "Be silent."
Both defendants were seated at a defense table facing one of the two juries in the case Tuesday, although there was a stark difference in how the two were being handled. Monroy was allowed to sit wearing a gray and black dress without shackles or chains. Bracamontes was seated at the table with waist chains and his arms shackled beneath the table. After he was seated and chained to his chair, one of his attorneys slipped a pre-knotted necktie around his collar.
Two Sacramento County Sheriff's deputies were seated behind him in court, and one was sitting behind Monroy, but the judge instructed both juries to ignore the security precautions and advised them it was a "normal procedure."
Bracamontes grinned throughout the first portion of Norgaard's statement; laughed out loud when the prosecutor said he cared only about his dogs; and stared at spectators in the courtroom, including the dead deputies' families.
The Bracamontes jury is referred to as the "red jury," while the jury deciding Monroy's fate is referred to as the "green jury."
That second jury was brought in Tuesday afternoon to hear opening statements from Norgaard and Kmeto.
Bracamontes and his lawyers received permission from White to skip that part of the proceedings, meaning there were no further outbursts Tuesday. The first witness in the case, Bracamontes' brother, is expected to begin testimony Wednesday.
The trial is being held in a large, first-floor courtroom chosen to accommodate family members of the dead deputies and the expected crush of onlookers and media, including photographers who were allowed to record images of the suspects' faces for the first time since their arrests.
White has previously kept cameras out of the courtroom, but has agreed to allow access during the start of the trial, closing arguments, the reading of the verdicts and any sentencing.
Bracamontes' wife has remained mostly quiet during the pretrial proceedings, although at times she has cried at the defense table as her husband has acted out. Court filings have described Bracamontes as paranoid and abusive, and say that while the couple drove from their Salt Lake City home to Sacramento, he smoked methamphetamine and marijuana and threatened to sell her into sexual slavery.
[adrotate banner="24″]

[pt_view id="517b65fj16″]