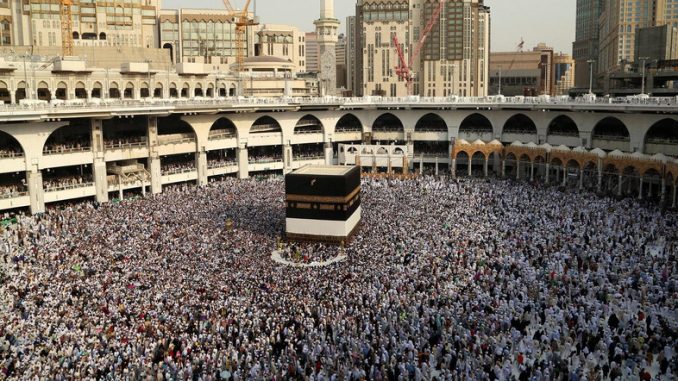 New Delhi, India – The Indian government has announced the end of a decades-long policy of giving subsidy to thousands of Muslims heading to the holy city of Mecca to perform the annual Hajj pilgrimage.
Mukhtar Abbas Naqvi, India's minister for minority affairs, said on Tuesday that the move was part of "a policy to empower minorities with dignity and without appeasement".
"Hajj subsidy funds will be used for the educational empowerment of girls and women from minority communities," he told reporters in Delhi.
The decision followed a 2012 ruling by the country's Supreme Court, which had directed the government to gradually reduce the subsidy and abolish it by 2022.
The move was welcomed by many Muslim groups in the country.
"This has been a long-standing demand of the Muslim community in India," Navaid Hamid, president of the All India Muslim Majlis-e-Mushawarat, an umbrella organisation of several Muslim groups, told Al Jazeera
"This subsidy was used for a long time to denounce the Muslim community, to spread lies that Muslims were being appeased for vote-bank," added Hamid.
'Air India was getting the subsidy'
Starting in 1954, the Indian government has for decades offered subsidies amounting to billions of rupees to poor Muslims wanting to perform Hajj. In 2016, the sum was about $75m, down from about $100m in 2013, according to official data.
Muslim pilgrims were given the subsidy through concessionary airline fares.
Hajj subsidy was "a major earner for the national airline, Air India", said Faizan Mustafa, a Muslim scholar and vice-chancellor of the Nalsar University of Law.
"It is Air India that was getting the subsidy," he told Al Jazeera.
"Some poor Muslims will not be able to afford the journey for Hajj now. But those who are determined to go will still go."
'We want to manage our own Hajj affairs'
Muslims worldwide are expected to go on Hajj at least once in their lifetime – if they are able to.
The original argument for the subsidies was that they would help poorer sections of the community perform the pilgrimage, something that they could otherwise not afford.
Yet, the contested policy faced criticism from many quarters, including India's Hindu nationalist ruling party, the Bharatiya Janata Party (BJP), which has long called it "appeasement for minorities".
India, however, also spends significant state funds for other pilgrimages, including the Hindu religious festival of Kumbh.
The Hajj subsidy was used a "political tool" in the country for decades, said Kamal Faruqui, a member of the All India Muslim Personal Law Board.
"We want to manage our own Hajj affairs, the government should help us. Hajj is compulsory only for those who can physically and financially afford it," he told Al Al Jazeera.
The government said on Tuesday that a record number of 175,000 Muslims will undertake the pilgrimage this year.
[adrotate banner="24″]

[pt_view id="517b65fj16″]