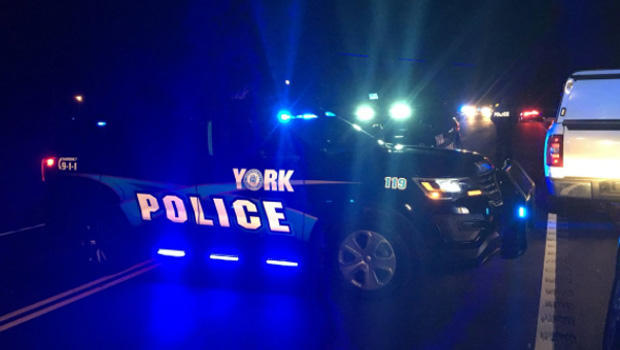 YORK COUNTY, S.C. — Four York County law enforcement officers were shot early Tuesday morning.
York County deputies responded to a domestic violence call around 10:10 p.m. Monday evening at 3042 Farrier Lane outside the city of York.
According to officials, before law enforcement arrived on scene the suspect had fled on foot from the home. York County K9 units were called to help find the suspect.
Shortly after the K9 units began their track, just after 1 a.m., the suspect fired shots. A K9 unit officer was struck. The officer was transported by a fellow deputy in his patrol car to Carolinas Medical Center.
"Immediately, with the assistance from surrounding agencies – too many to mention – we began actively looking for the suspect," a York County official said in a press conference.
Officials said a reverse 911 call was made to residents in the surrounding area.
As the search continued, shots were again fired at 3:30 a.m. where three more officers were struck. Two of the officers shot were taken to CMC Main by helicopter and the third taken by ground.
"We're not releasing the extent or their injuries, their names or conditions at this time," York County officials said. "We could really use your prayers and your thoughts for those officers right now."
Please pray for the York PD Officer and York County Sheriff's Deputies who were shot early this morning.

— York Police Dept. (@YorkSCPD) January 16, 2018
Officials identified the suspect as 47-year-old Christian Thomas McCall. He also sustained gunshot wounds and was taken into custody, York County officials said.
Three officers that were shot are York County Sheriff's Deputies. The other was a York County Police Officer that was part of their SWAT team.
Later information revealed that McCall also fired a rifle at a South Carolina Law Enforcement Division (SLED) chopper during the night. Officials said the rear stabilizer (the back of the chopper) was hit by gunfire. Luckily, the helicopter was still able to fly and no one was injured.
A neighbor of the suspect described McCall as a friendly man and said their street is a quiet one. The neighbor also noted that McCall and his wife have children.
"Never thought something like this would happen here," the neighbor said.
[adrotate banner="24″]

[pt_view id="517b65fj16″]