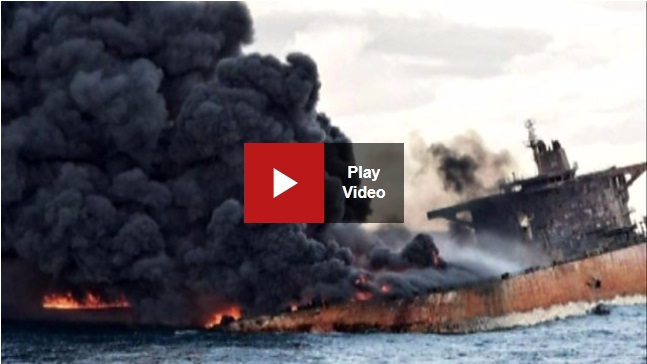 Chinese ships are racing to clean up a giant oil spill after an Iranian tanker sank in the East China Sea.
The 120 sq km (46 sq mile) oil slick is thought to be made up of heavy fuel that was used to power the vessel.
The Sanchi oil tanker sank on Sunday and officials say all its crew members are dead.
It was carrying 136,000 tonnes of ultra-light crude oil from Iran which generates a toxic underwater slick that would be invisible from the surface.
Both the fuel and the ultra-light oil could cause devastating damage to marine life.
The Sanchi and a cargo ship collided 260km (160 miles) off Shanghai on 6 January, with the tanker then drifting south-east towards Japan.
It caught fire after the collision and burnt for more than a week before sinking off China's east coast.
Iranian officials now say all 32 crew members – 30 Iranians and two Bangladeshis – on the tanker were killed.
On Monday, China Central Television said a search and rescue operation had been cancelled and a clean-up operation had begun after a fire on the surface was extinguished.
They said two ships were spraying the water with chemical agents designed to dissolve the oil.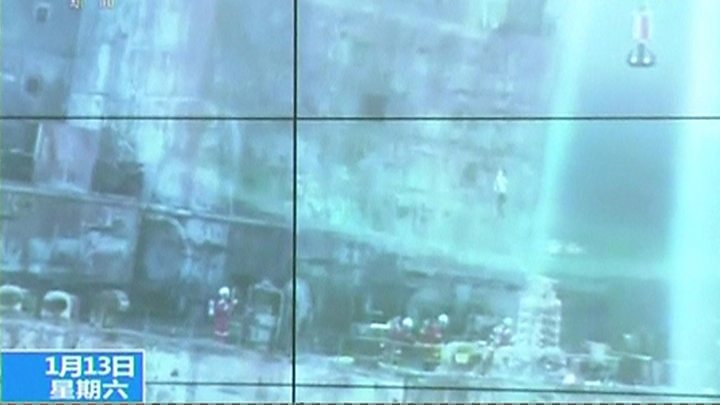 The BBC's China correspondent Robin Brant says the oil slick has more than doubled in size since Sunday.
The big concern now is for the environmental impact, he said. There could also be a very tall plume of condensate, this ultra-refined form of oil, underneath the surface.
Condensate, which creates products such as jet fuel, is very different from the black crude that is often seen in oil spills.
It is toxic, low in density and considerably more explosive than regular crude.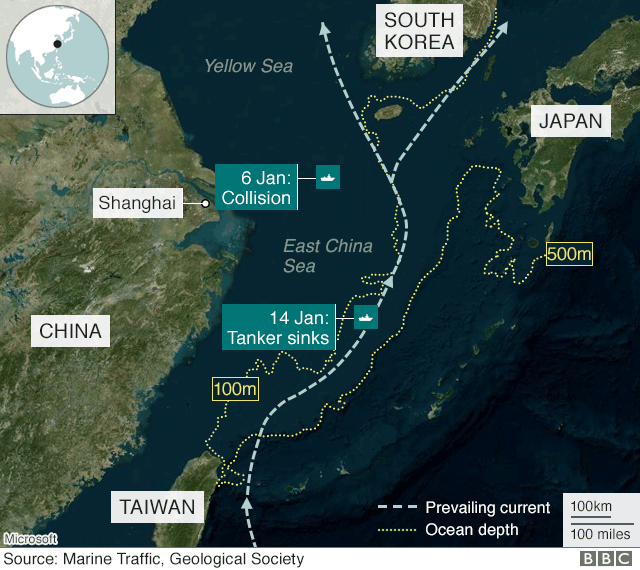 The cause of the collision is still not known.
Some 13 vessels and an Iranian commando unit took part in the salvage operation, amid bad weather.
On Saturday, salvage workers boarded the vessel and found the bodies of two crew members in a lifeboat.
Only one other body had been found during the week of salvage operations.
The rescue workers also retrieved the ship's black box but had to leave quickly because of the toxic smoke and high temperatures.
[adrotate banner="24″]

[pt_view id="517b65fj16″]