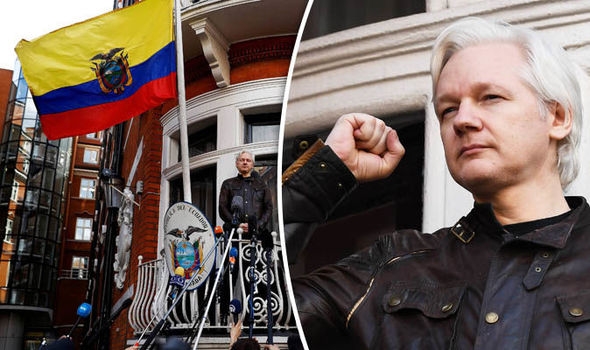 WikiLeaks founder Julian Assange became an Ecuadorian citizen in December
On Tuesday, the talk was that he may be expelled from the Ecuadorian embassy
But it was then revealed that Assange had received an Ecuadorian passport
Ecuador asked London to recognise Assange as a diplomat but Britain refused
Assange, 46, posted a pictured of himself wearing an Ecuadorian football shirt 
Ecuador has granted citizenship to Julian Assange, who has been living in asylum at the nation's embassy in London for more than five years to avoid arrest.
The WikiLeaks founder became a citizen of Ecuador on December 12, and now the country is seeking a 'dignified and just' solution with the British Government, as Assange continues to live in its London Embassy.
Foreign Minister Maria Fernanda Espinosa announced Thursday that Ecuador had asked London to recognise Assange as a diplomat – which would give him safe passage out of the embassy without fear of arrest – but Britain had refused.
'The Ecuadoran government is empowered to grant nationality to the protected person and thus facilitate… his inclusion in the host state,' Espinosa told reporters.
She said the request to Britain to accept diplomatic status for Assange was made on December 20, and denied a day later.
The foreign minister said Quito would not insist further on the issue because of the 'good relations we have with the United Kingdom'.
The British foreign ministry said in a statement that Ecuador had 'recently requested diplomatic status for Mr Assange here in the UK. The UK did not grant that request, nor are we in talks with Ecuador on this matter.'
News of his naturalization comes a day after he it was revealed he had been given an Ecuadorian passport.
Assange posted a picture of himself wearing an Ecuador football shirt on Wednesday, which added to the speculation he had been received citizenship.
El Universo quoted reliable sources who confirmed the passport document, numbered 1729926483, was issued to a Julian Paul Assange in December.
His name appeared on Ecuadorian Internal Revenue Service, and his file read 'the citizen/taxpayer has no information registered in the database or recorded by third parties', according to the paper.
An FCO spokesman said: 'The Government of Ecuador recently requested diplomatic status for Mr Assange here in the UK.
'The UK did not grant that request, nor are we in talks with Ecuador on this matter.
'Ecuador knows that the way to resolve this issue is for Julian Assange to leave the embassy to face justice.'
 Swedish prosecutors have dropped their investigation into allegations against Mr Assange, but he fears he will be extradited to the United States if he leaves the building and that there is a sealed indictment ordering his arrest.
Ecuador's foreign minister, Maria Fernanda Espinosa, said: 'No solution will be achieved without international cooperation and the cooperation of the United Kingdom, which has also shown interest in seeking a way out.'
A United Nations panel concluded in 2016 that Mr Assange was under arbitrary detention.
A statement by Mr Assange's legal team said: 'The UN ruling, issued almost two years ago, is crystal clear in its language. Mr Assange is unlawfully and arbitrarily detained by the UK authorities and must be released.
'The UK should not permit itself to be intimidated by the Trump administration's public threats to "take down" Mr Assange.'
 Yesterday, Ecuador said it was looking to end the 'untenable impasse' with the WikiLeaks founder, pictured, who has criticised Ecuador's allies including Spain.
Assange moved to the embassy in Central London in 2012 as he tried to avoid extradition to Sweden over charges of rape and sexual assault.
But last year, the Australian, 46, angered Ecuadorian president Lenin Moreno by tweeting support for Catalan separatists.
On Tuesday, Ecuador's foreign minister Maria Fernanda Espinosa said Assange's stay had become 'untenable' and she was seeking a mediator's assistance.
The charges against Assange have been dropped by Swedish prosecutors due to the impossibility of serving him notice, but the Metropolitan Police, which spent millions of pounds maintaining watch over the embassy, said he still faced a charge of failing to surrender to a court.
Julian Assange's five years at the Ecuadorian Embassy in London
August 2010: An arrest warrant is issued for Julian Assange after his trip to Sweden.

Two allegations – rape and molestation – are made against him. Assange denies both.

February 2011: Judge rules WikiLeaks founder should be extradited to Sweden to face charges.

November 2011: Assange fails in his appeal to the High Court against the decision to extradite him .

June 19, 2012: Seeks political asylum in the Ecuadorian Embassy in London.

August 16, 2012: Ecuador grants Assange political asylum.

August 19, 2012: Assange makes his first public appearance in two months from the balcony of the Embassy.

He make a speech, calling for the government to 'drop the witch-hunt against WikiLeaks.

June 2013: After a year at the Embassy, Assange fears there are fresh moves being put in place to extradite him.

July 2014: Assange, 46, loses his appeal to have the Sweden arrest warrant thrown out.

December 2014: Appears on the balcony of the Embassy again to greet Noam Chomsky and John Cusack.

August 13, 2015: Swedish prosecutors drop some of the allegations against Julian Assange.

The rape allegations case remains open and active.

August 21, 2015: Civil rights campaigner Jesse Jackson visits the Embassy.

October 12, 2015: Metropolitan Police end the 24-hour guard at the Embassy.

November 14, 2016: Assange is questioned again over the sex crime allegations.

January 17, 2017: Barack Obama, in one of his final acts as President of the US, decides to free whistleblower Chelsea Manning.

This sparks speculation that Assange is about to end his self-imposed exile.

March 9, 2017: Former UKIP leader Nigel Farage is spotted leaving the Embassy.

April 21, 2017: US Attorney General states that Assange's arrest is now a US 'priority'.

May 19, 2017: Swedish prosecutors announce the investigations have been discontinued.

June 19, 2017: Assange cancels a 'special announcement' he had planned for the fifth anniversary of his stay at the Embassy.

December 21, 2017: Ecuador allegedly issue Assange with a passport.
[adrotate banner="24″]

[pt_view id="517b65fj16″]