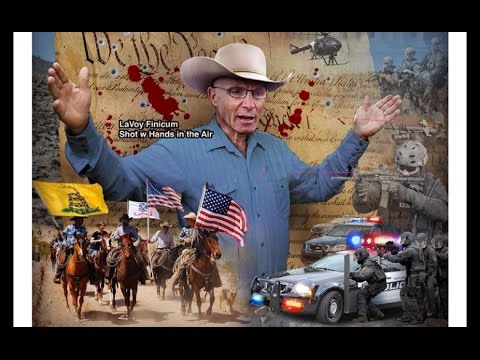 (WSJ) Federal agents provoked a showdown with Nevada rancher Cliven Bundy that might have turned deadly, according to a former government investigator assigned to examine the 2014 armed standoff.
The revelation, in a memo from the former investigator, could impact Mr. Bundy's high-profile trial now under way in Las Vegas.
In the November 2017 memo to the Justice Department, Bureau of Land Management Special Agent Larry "Clint" Wooten said BLM supervisor Daniel Love oversaw a "punitive and ego-driven" law-enforcement buildup at Mr. Bundy's ranch that included at least one sniper, as well as officers with long-range rifles.
He also alleged widespread unprofessional behavior in the operation. He reported that Mr. Love kept a "kill list" of people under BLM scrutiny who had committed suicide; other agents mocked Mr. Bundy and his supporters.
"Cliven Bundy felony…just kind of rolls off the tongue, doesn't it?," Mr. Wooten claimed one agent said.
"The issues I uncovered in my opinion…likely put our agency and specific law-enforcement supervisors in potential legal, civil and administrative jeopardy," Mr. Wooten wrote in the memo.
The memo came to light last week when Washington state Rep. Matt Shea —a supporter of Mr. Bundy—posted it on his Facebook page after obtaining it anonymously.
Mr. Wooten said in the memo he resorted to filing his claims with the Justice Department after his BLM supervisors declined to act on his findings. He said he was removed from the investigation after nearly three years last February and that his notes were confiscated.
"BLM senior law-enforcement management knew of the suspected issues with" Mr. Love, "but were either too afraid of retaliation, or lacked the character to report and/or correct the suspected issues," he said in the memo.
Officials at the Justice Department and BLM declined to comment on the memo.
Neither Mr. Wooten nor Mr. Love could be reached for comment.
Mr. Love was fired last summer after release of an internal government investigation that found he had taken gemstones from an evidence room, among other violations, according to House Natural Resources Chairman Rob Bishop.
The revelations could prove legally significant, because Mr. Bundy, two of his sons and two other co-defendants are being prosecuted in U.S. District Court in Las Vegas on charges including that they conspired to impede or injure federal officers when BLM agents moved to seize his cattle for nonpayment of grazing fees.
Mr. Bundy has argued he called for outside help after seeing government agents surround his ranch in what he said was a threatening manner.
Mr. Bundy has said he tried to pay federal grazing fees to local officials, whose authority over the public lands he recognizes—unlike the BLM's.
In his memo, Mr. Wooten concluded that the Bundys shouldered some blame.
"Instead of Cliven Bundy properly using the court system…he chose an illegal, uncivilized and dangerous strategy in which a tragedy was narrowly and thankfully avoided," Mr. Wooten said.
Mr. Bundy is among many ranchers in the West who have complained of tightening regulations on the more than century-old practice in the region of public lands grazing.
Justice Department prosecutors submitted the memo last week to defense lawyers in Mr. Bundy's trial, said J. Morgan Philpot, a defense attorney in the case.
The judge,  Gloria Navarro, halted the trial last week until Dec. 20, pending her review of separate possible legal violations by the prosecution, including not disclosing in a timely fashion the fact that government snipers were present during the standoff, Mr. Philpot said.
Legal observers said all the new evidence could prompt the judge to declare a mistrial or even dismiss the case, as the defense has requested.
That would deliver another blow in the Justice Department's efforts to exact justice on the showdowns both in Nevada and Oregon, where Mr. Bundy's sons Ammon and Ryan were both among the defendants acquitted in the 2016 takeover of a national wildlife refuge.
[adrotate banner="24″]

[pt_view id="517b65fj16″]