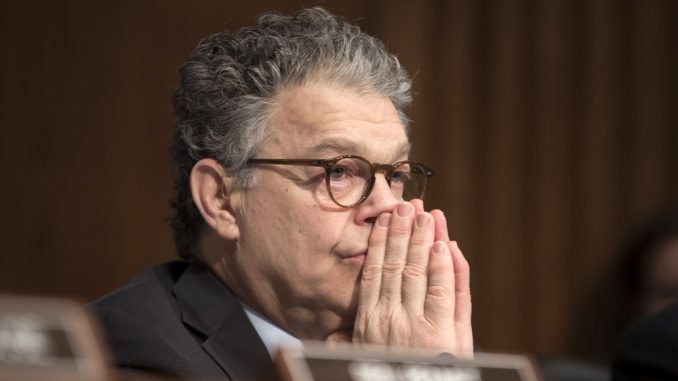 Minnesota Sen. Al Franken will resign from the United States Senate he said on Thursday, an announcement he made a day after a number of his Democratic colleagues called for him to step down amid mounting allegations that he sexually harassed women.
"Today I am announcing that in the coming weeks, I will be resigning as a member of the United States Senate," said Franken, adding, "It's become clear that I can't both pursue the ethics committee process and at the same time remain an effective senator for [the people of Minnesota]."
The allegations against the senator began less than three weeks ago with the account of a Los Angeles radio host who described Franken's actions while the pair were on a USO trip together in 2006. Though he apologized, acknowledged some wrongdoing and called for an ethics investigation to be initiated, Franken resisted early calls for his resignation, even after additional accusations of misconduct surfaced.
The tipping point seemed to come earlier in the day Wednesday, when, in what was a coordinated effort, Sens. Kirsten Gillibrand, D-N.Y., Mazie Hirono, D-Hawaii, Claire McCaskill, D-Mo., Maggie Hassan, D-N.H., Patty Murray, D-Wash., Kamala Harris, D-Calif., Tammy Baldwin, D-Wis., each called for Franken to resign.
A host of additional Democratic legislators and Democratic National Committee Chair Tom Perez later joined the initial group of female senators in urging Franken to give up his seat.
In November, Leeann Tweeden, the radio host, was the first to go public with her allegation against Franken of forcibly kissing and groping her over ten years ago. Tweeden claimed that Franken "forcibly kissed me without my consent" while rehearsing for a skit on an United Service Organizations tour to entertain U.S. troops in Afghanistan.
"I felt disgusted and violated," Tweeden wrote of the alleged incident in a blog post published Nov. 17.
Tweeden further wrote that Franken groped her while she was sleeping and included a photo of Franken appearing to place his hands on her chest.
"I certainly don't remember the rehearsal for the skit in the same way, but I send my sincerest apologies to Leeann," Franken wrote in paper statement apologizing to Tweeden. "As to the photo, it was clearly intended to be funny but wasn't. I shouldn't have done it."
The radio host accepted the apology, and, at the time, said she felt Franken should not step down from his Senate seat.
After the allegations surfaced, Senate Majority Leader Mitch McConnell, R-Ky., called for an ethics investigation into Franken and the 2006 incident with Tweeden.
Tweeden said she was inspired to go public with her story after two congresswomen testified in a House committee hearing that their colleagues on Capitol Hill had engaged in sexual harassment, including groping and exposing their genitals.
After Tweeden, six other women came out with similar allegations against Franken.
Franken became known to the public as a comedian and cast member of the NBC sketch comedy show "Saturday Night Live" for 15 seasons.
The Minnesota native decided to pursue politics, winning a close election recount in the 2008 Minnesota race and reelected to a second term in 2014. Before his resignation, Franken had been mentioned as a potential Democratic candidate for the 2020 presidential election.
During his time in the Senate, Franken sponsored legislation that combatted sexual assault and violence against women. As the powerful Hollywood executives and producers faced a reckoning over sexual harassment and assault allegations, attention also turned to those in power on Capitol Hill.
Jackie Speier, D-Calif., and other female congressional members shared their "#MeToo" accounts of sexual harassment and assault during a hearing to review sexual misconduct policy in the House. Franken had spoken out in support of Speier and the women.
"Sexual harassment and violence are unacceptable. We all must do our part to listen, stand with, and support survivors." Franken tweeted.
[adrotate group="4″]
[adrotate banner="24″]
[pt_view id="517b65fj16″]