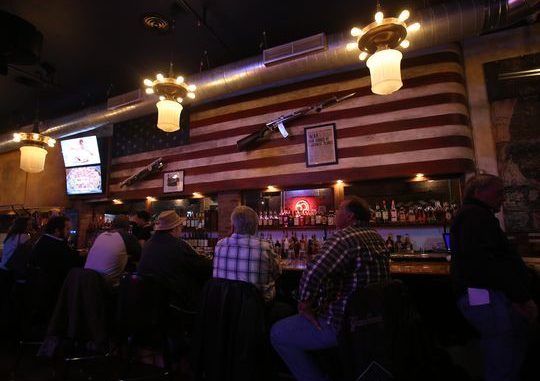 A new Nashville-inspired tavern in Peekskill has sparked a debate in town, revolving around an M16 replica and Gadsden flag that hang over the bar. Wochit
A new eatery in Northern Westchester is sparking debate over what some consider offensive decor and others deem a tribute to the armed forces.
Eagle Saloon, the latest project from serial restaurateur Louie Lanza (Hudson Room, Buns 'n' Bourbon, Taco Dive Bar, Fin & Brew) is a Nashville-inspired watering hole in Peekskill offering upscale comfort foods and live country music.
But an enormous Gadsden flag and rifle replica mounted above the bar have caused some members of the community to lose their appetite.
"This needs to be fixed. Not a gun like that on the wall, not in this town," decried one local woman in a heated Facebook community thread regarding the decor. "In this era, semiautomatics are especially evocative of mass murder … this reeks too much of violent attacks on civilians. Just not a good idea to use it as decor."
She was not alone in her sentiments.
"Why glorify a tool of death?" asked Vinnie Brophy, who said he keeps a personal collection of rifles at home. "I have nothing against rifles and handguns if used for sport. But none of my rifles are assault rifles that are used in mass killings."
"With all the civilian deaths from assault weapons, I feel having one displayed is in bad taste," Brophy told lohud.
Others in town took umbrage with the Gadsden flag directly adjacent to Old Glory, questioning why Lanza would promote imagery that has been linked with racist dogma in recent years.
A relic of Revolutionary times, the Gadsden flag depicts a coiled rattlesnake on a yellow background and the words "Don't Tread on Me." The flag was adopted by Libertarians in the '70s and Tea Partiers in the early aughts as a reproach to overreaching government.
In response to the objections raised, Lanza insisted that both symbols are intended to honor the military and law enforcement.
"I grew up in a patriotic family and my father was in the military," said Lanza. "It was instilled in me that this country is what this country is about because of those who fought for what we believe in. And when we were talking about opening the Eagle Saloon, I wanted to do something that would support those individuals."
Lanza noted that a portion of sales from Eagle Saloon, which opened on Friday, will go toward supporting law enforcement foundations and said that he offers discounts to those who serve.
He said he purchased what he described as a 1972 double life-sized M16 replica from a collector years ago.
"This was a training model, a cutaway," he said of the gun. "It's a replica, it never worked, nobody ever used 'em. But it's a symbol of what our grandparents and kids nowadays are doing to protect us and keep us out of harm's way."
A self-described "avid gun-rights guy," Lanza told lohud.com that he practices gun safety at home and believes "certain people should not have firearms; I have no problem with the government checking on the mental health of gun owners."
But he attributed any offense taken to the Gadsden flag to "people barking on Facebook" who should "educate themselves."
"This is the Continental Marines flag," he said. "I can't help it if the nut jobs take something and try to make it something bad."
He maintained that he has received zero complaints from guests.
"If you come into the place and see the vibe, you'll see this is not about a bunch of frikkin' rednecks running around," Lanza said. "We're serving Chinese food, pupu platters … And if somebody doesn't understand what we're doing there, they shouldn't come in there. I don't want you as a customer."
[adrotate banner="24″]

[pt_view id="517b65fj16″]