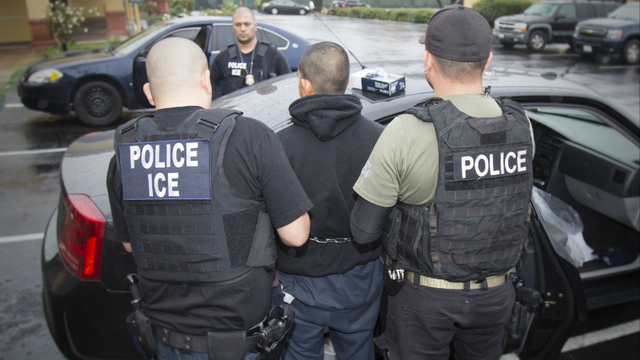 THE HILL – While arrests on the border have dropped, the number of deportation arrests made by Immigrations and Customs Enforcement (ICE) has increased, The Associated Press reported Tuesday.
In the last fiscal year, the U.S. Border Patrol arrested 310,531 individuals, compared to 415,816 in the year prior, the report said.
ICE, however, arrested 143,470 individuals, which is an increase from the 114,434 arrests made in the previous year.
The numbers reported by AP come amid the Trump administration's immigration crackdown. Attorney General Jeff Sessions earlier this year directed his prosecutors to crack down on immigrants in the country illegally who commit crimes.
The administration is also reportedly receiving help from local police departments, which can enroll in a program providing them with the authority to verify the immigration status of people they detain.
The AP report noted that Trump's victory in the election could have dissuaded prospective border crossers and that the number of border arrests has decreased to the lowest in 45 years.
A majority, 58 percent, of the arrests made by the Border Patrol were individuals not from Mexico, the report said. Many were from Central America.
[adrotate banner="24″]

[pt_view id="517b65fj16″]