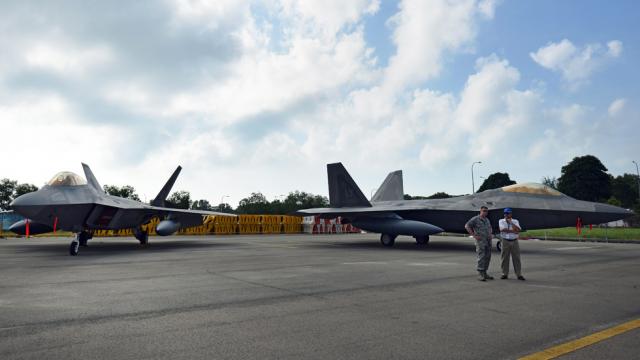 THE HILL – U.S. Air Force aircraft arrived in South Korea on Saturday to participate in a joint aerial drill just a week after North Korea launched a ballistic missile.
The drill, dubbed "Vigilant Ace," will take place from Monday to Friday, and feature F-22 stealth fighters and F-35 aircraft. About 12,000 U.S. personnel from the Air Force, Marine Corps and Navy, along with 230 aircraft, will take part in the drill.
North Korea responded to the planned drill by saying the U.S. is "begging" for war by planning the "largest-ever" joint aerial drill with South Korea, according to Bloomberg News and CNN.
National security adviser H.R. McMaster said Saturday that the chances of war between North Korea and the United States are "increasing every day."
North Korea claimed it carried out successful a missile test last week, two months after its last launch attempt.
It was the country's third intercontinental ballistic missile test, but the first of what North Korea is calling its Hwasong-15 missile.
The missile is said to have flown nearly 2,800 miles high and for a distance of more than 600 miles. Flattened out to typical missile trajectory, experts said, that means the missile can travel a distance of more than 8,000 miles — far enough to strike anywhere in United States.
[adrotate banner="24″]

[pt_view id="517b65fj16″]