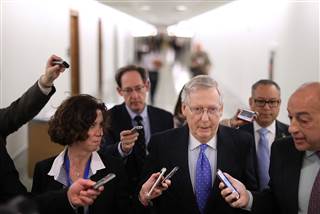 McConnell on 
GOP

 tax bill: 'We have the votes'
"We have the votes," the Kentucky Republican told reporters on the Senate floor shortly before noon, adding that a final vote on the plan would take place some time on Friday.
Moments later, Flake, an Arizona Republican who is not running for re-election next year, issued a statement saying that the bill, which had been revised numerous times, now met his "objectives."
Among other things, Flake said he was pleased that he had now received a commitment on legislation that would protect DACA recipients.
In getting to "yes," Flake joined Sen. Ron Johnson, R-Wis., who earlier Friday rallied behind the tax legislation.
Prior to Friday morning, the two men had been among their party's holdouts the bill. Their support now gives McConnell a pathway to passage, possibly later Friday.
Johnson's "yes" came after the legislation hit a $1 trillion snag and spent the night in limbo.
A Joint Taxation Committee score Thursday found that even with the slight economic growth spurred by the bill, the tax cuts would still add $1 trillion to the deficit, and Senate rules foiled the addition of a "trigger" mechanism that would have hiked taxes should economic growth fall short.
One senior White House source had told NBC News earlier in the day that they're "cautiously optimistic" the tax plan will pass the Senate, heading to negotiations between the House and Senate on final legislation that would be sent to President Donald Trump for his signature.
The White House has been pushing hard to accomplish a tax overhaul before Christmas in order to give the president a much-needed first year win after a number of failed attempts to repeal and replace Obamacare. The tax bill also repeals the individual mandate, a key part of the health care law, as well as the tax credits that help low-income Americans pay for insurance.
"The Bill is getting better and better. This is a once in a generation chance. Obstructionist Dems trying to block because they think it is too good and will not be given the credit!" Trump tweeted Friday morning.
Speaking with NBC News ahead of Friday's vote, Corker said he was continuing to negotiate with colleagues over the bill but said he is not whipping other senators against the bill.
The Tennessee Republican said he believes his party may have enough votes to pass the bill without him. Sen. John Kennedy, R-La., said he also believes the party has the votes to pass the bill without Corker.
"But I want Bob's vote," he said
[adrotate banner="24″]

[pt_view id="517b65fj16″]