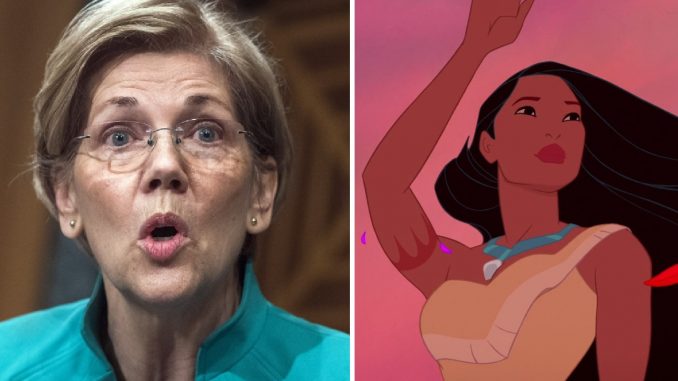 On Tuesday, President Donald Trump ripped Sen. Elizabeth Warren (D-MA) for misrepresenting her alleged Native American heritage, referencing her as "Pocahontas" when speaking to Navajo WWII code talkers being honored at the White House.
"I just want to thank you because you are very, very special people. You were here long before any of us were here. Although, we have a representative in Congress who has been here a long time … longer than you — they call her Pocahontas!" said President Trump.
Warren, who once spouted about her "Papaw"'s "high cheek bones" to explain those dubious claims of Native heritage that seemingly advanced her career at Harvard, quickly took to the airwaves of CNN to play victim, calling Trump's "Pocahontas" jab a "racial slur." Daily Wire's Paul Bois reports:
Warren "couldn't believe" he would take the moment to highlight her infamous claim about her heritage, something she and her allies in the MSM would rather avoid addressing, particularly in light of her anticipated 2020 run.

"There he was, at a ceremony to honor Native Americans, men who have really put it all on the line to save American lives, to save lives of people, our allies, during World War II, really amazing people. And President Trump couldn't even make it through a ceremony to honor these men without throwing in a racial slur," Warren told CNN's Anderson Cooper.
Ironically, an actual descendant of Pocahontas, Debbie "White Dove" Porreco, disagrees with lily-white Warren about the alleged offensiveness of the term.
Back in a September interview, Porreco, who was the model for Disney's Pocahontas character, explained that Trump calling the senator "Pocahontas" was not offensive: "I know that he uses 'Pocahontas' sometimes with Elizabeth Warren," she said. "He said, 'well does that offend you when I use that?' And I told him no, it doesn't offend me."
"If Pocahontas were alive today, she would be very proud of President Trump," she added. "Just like Pocahontas was a heroine, Donald Trump is going to be our hero."
Further, as reported by Daily Wire's Ryan Saavedra on Tuesday, one of the Native American heroes Trump dropped the "Pocahontas" reference to was also not offended:
CNN political analyst Joshua Green met with Thomas Begay – one of the veterans honored at the event – who said that while he was puzzled by the comment, he was not offended by it.

"The Marines made us yell 'Geronimo' when we jumped out of planes, and that didn't offend me either," Begay said.
The only backing for Warren's claim of Native heritage derives from an "unsubstantiated thirdhand report that she might be 1/32 Cherokee" from 2011, explained The Atlantic.​
November 29, 2017
[adrotate banner="24″]

[pt_view id="517b65fj16″]