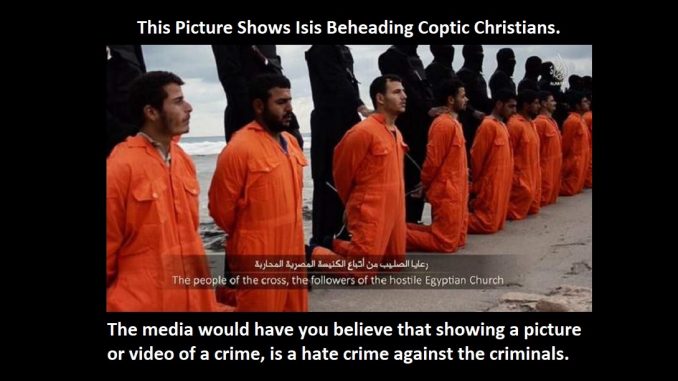 In this case, while the retweeted video's may have been graphic they are only Documentary's. Not greatly different than National Geographic showing pictures of native africans. They are not of themselves racist, but an educational image of the truth. The Liberal Media would have you believe that by showing pictures of criminals committing crime's, is a hate crime towards the criminal. It's easy to understand how they can think this when video's of Michael Brown robbing a Bodega was considered racist.
This circular logic is very much like the rest of the liberal message. There is a double standard for everything, or we would be prosecuting Black Lives Matter for hate crimes against police.  Pictured above are ISIS soldiers beheading Christians. There seems to be some confusion as to who the victim is. According to the Media this picture would be victimizing Muslims.  Does a picture of Nazi's shooting Jews victimize the Nazi?
Can we ask the same question of who is the victim of he above picture?
(CNN)President Donald Trump retweeted Wednesday morning three inflammatory videos from a British far-right account rife with anti-Muslim content.
The videos, posted by Jayda Fransen, the deputy leader of Britain First, a far-right and ultra-nationalist political group, depict purported Muslims assaulting people and, in one video, smashing a statue of the Virgin Mary.
Trump, who has previously warned that immigration from Muslim-majority nations threatens European and US security, frequently retweets other messages whose political views he finds favorable. But he has seldom shared messages as offensive and explosive as he did on Wednesday, and the retweets were immediately met with outrage in the United Kingdom and condemned by Downing Street.
Fransen reacted jubilantly online, touting that the videos had been shared with Trump's nearly 44 million followers. "GOD BLESS YOU TRUMP!" she wrote in all caps.
White House press secretary Sarah Sanders defended Trump's retweets, telling reporters that he shared them to start a conversation about border security and immigration.
"I think his goal is to promote strong borders and strong national security," Sanders told a small group of reporters after appearing on Fox News.
Sanders also downplayed questions about whether the videos were authentic, because "the threat is real."
"That is what the President is talking about, that is what the President is focused on, is dealing with those real threats, and those are real no matter how you look at it," she said.
Sanders said she didn't know how Trump came across the videos, but conservative commentator Ann Coulter, who is one of the 45 accounts Trump follows, had retweeted Tuesday one of the clips shared by Fransen.
Fransen was found guilty of religiously aggravated harassment in November 2016 after abusing a Muslim woman wearing a hijab while she was with her four children. Fransen was fined by the court and ordered to pay costs.
In a separate development, Fransen was also charged over using "threatening, abusive or insulting words or behavior" during a speech she made in Belfast in Northern Ireland. She is set to appear at Belfast Magistrates Court on December 14.
[adrotate banner="24″]

[pt_view id="517b65fj16″]