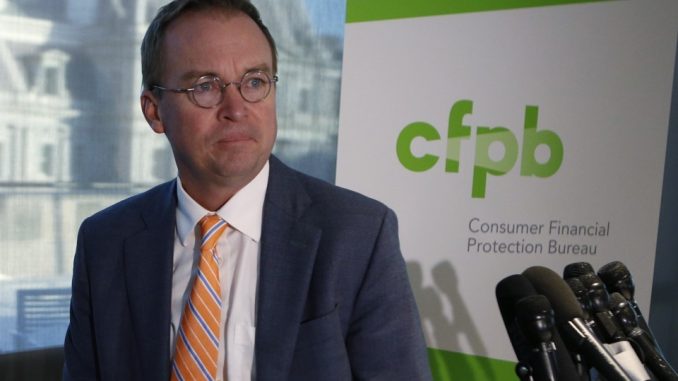 Mick Mulvaney, who once called the Consumer Financial Protection Bureau the "worst kind" of government entity, vowed to keep the agency open while making changes that protect people without choking off capitalism.
Addressing reporters at a news conference on Monday, President Donald Trump's pick to lead the CFPB as acting director said he has no plans to "set the agency on fire." But Mulvaney did say he would quickly change the tone at the regulator, a pledge underscored by his decision to impose 30-day freezes on regulatory actions and hiring while he conducts a review of the bureau's operations.
"Rumors that I'm going to set the place on fire or blow it up or lock the doors are completely false," Mulvaney said. Still, he added that "anybody who thinks that the Trump administration CFPB will be the same as an Obama administration CFPB is simply being naïve."
He said he spent much of Monday meeting with senior staff members and will be briefed on CFPB lawsuits against companies on Tuesday.
Splitting Time
Mulvaney will lead the bureau while continuing to serve as director of the Office of Management and Budget. He said he plans to spend three days a week at the CFPB and three at OMB while awaiting Trump's nomination of a permanent candidate to take over the consumer watchdog.
Mulvaney showed up early Monday with an olive branch for CFPB staff who might be worried about what he has in store for them: doughnuts. He then started pouring through briefing books and sent a memo to workers advising them to disregard any orders from Leandra English, the agency bureaucrat who's separately asserted that she's the boss.
But while Mulvaney tried to keep his first day as acting director of the regulator drama-free, it's still far from certain who's in charge and a federal judge will probably have to sort out the high stakes battle.
The unusual chain of events was set in motion when Trump tapped Mulvaney last week to serve as temporary director — after outgoing CFPB Director Richard Cordray, a Democrat, named his chief of staff and long-time aide English as his successor.
English Sues
English filed a lawsuit Sunday night to block Mulvaney from taking over. She tried to assert she was in control by sending an email to CFPB staff stating that "it is an honor to work with all of you," according to a person who received her note. In the email, she identified herself as acting director.
At a hearing in Washington Monday, U.S. District Judge Timothy J. Kelly agreed to await legal papers from the Justice Department before ruling on English's request for a temporary order to prevent Trump from appointing Mulvaney. The Justice Department lawyer representing the Trump administration said he couldn't provide assurances that English's job as deputy director wasn't in jeopardy.
Inside the agency, division heads told employees that they should follow the guidance written Nov. 25 by General Counsel Mary McLeod that Mulvaney was acting director, said two people with knowledge of the matter who asked not to be named because the emails weren't public. And the judge assigned to decide English's lawsuit against the administration is a Trump appointee who's only been on the bench since September.
On Monday, Mulvaney directed workers to ignore instructions from English and to report any other communications "related in any way to the function of her actual or presumed duties" to McLeod, according to memo text obtained by Bloomberg.
Meeting Democrats
As Mulvaney addressed news reporters at the CFPB, English was making the rounds across town on Capitol Hill. She met and posed for photographs with lawmakers including Minority Leader Chuck Schumer and Senator Elizabeth Warren, one of the most relentless Wall Street critics in Congress.
"She's talking to the people who helped write the statue," Warren said, referring to the Dodd-Frank banking law. "Senator Schumer was one of the principal drafters, and she wanted a chance to meet with him about that and he wanted a chance to meet with her."
Mulvaney said that as CFPB director, he would be as independent from Trump as Cordray was from former President Barack Obama. He said he hasn't met English, but said he'd be willing to, even as he raised the question of whether her decision not to work Monday could be justification for firing her.
"In the ordinary world, if you don't call, you don't show, you don't have a job the next day, but I'm not sure how it works here," Mulvaney said.
Election Consequences
As acting director, Mulvaney said he has no plans yet for specific regulations to address, though he hoped to get a better idea "by the end of this week" after he has a chance to dig through what the agency has been working on. Whatever his moves are, he said the CFPB will become a "dramatically different" regulator.
"Elections have consequences at every agency, and that includes the CFPB," he said.
[adrotate banner="24″]

[pt_view id="517b65fj16″]