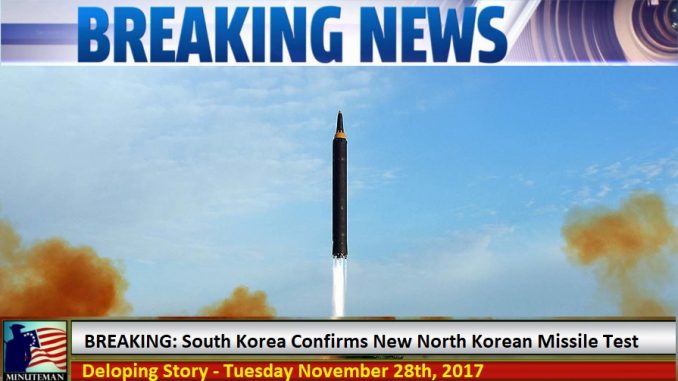 North Korea fired an unidentified ballistic missile on Wednesday, a U.S. official confirmed to Fox News.
South Korea's Yonhap News Agency, who first reported the launch, said the missile "flew eastward," according to South Korean military officials. The missile launch happened around 3 a.m. local time.
Japan's Prime Minister's Office for disaster and crisis management information tweeted shortly after the report: "North Korea launched a missile that has the possibility of arriving in the exclusive economic zone (EEZ) of our country."
There have been signs that indicated the Kim Jong Un's regime was planning a missile launch in recent days. Japan's Kyodo News reported on Monday that Japanese government detected radio signals that indicated a possible missile test in the near future.
North Korea last fired an intermediate-range missile on Sept. 15 that flew over Japan's Hokkaido Island before splashing into the Pacific Ocean. The missile flew 2,300 miles out, putting U.S. island territory of Guam in place.
South Korean unification minister Cho Myoung-gyon told foreign correspondents in Seoul on Tuesday that North Korea is on the verge of achieving full nuclear capability with an intercontinental ballistic missile that could carry a nuclear warhead, according to Yonhap News Agency.
"North Korea has been developing its nuclear weapons at a faster-than-expected pace. We cannot rule out the possibility that North Korea could announce its completion of a clear force within one year," Cho said.
[adrotate banner="24″]

[pt_view id="517b65fj16″]