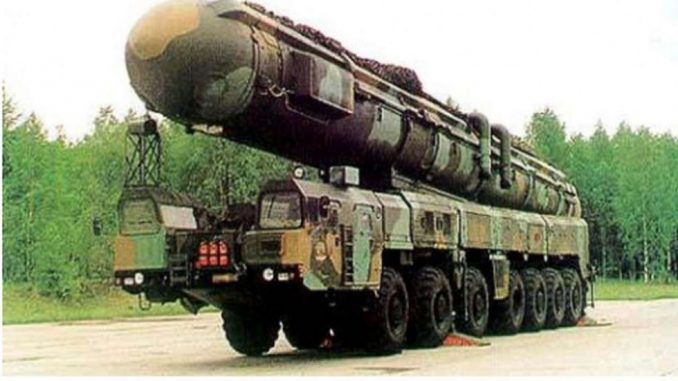 China unveils 19,030mph HYPERSONIC scattergun nuke to strike 'ANYWHERE in world'
China will in the first half of next year becapable of deploying the longest-range nuclear missiles in the world, with a range of up to 15,000km.
Major General Xu Guangyu, formerly vice-president of the People's Liberation Army ­Defence Institute, triggered an excited response among China's fans of military hardware when he revealed on China Central TV the coming on line of the Dongfeng-41.
The closest US equivalent of the DF-41 is the LGM-30 Minuteman, with a range of about 13,000km. Russia is testing a new intercontinental ballistic missile called Satan 2.
Enthusiasts posted online photos of sightings of the intercontinental Df-41 (East Wind) ballistic missile earlier this year.
General Xu said the DF-41 was a three-stage solid-fuel missile that could strike any target in the world from inside China, where it could be deployed by road and rail. It can reach a speed of up to Mach 25 and can use decoy devices to pierce an enemy's missile warning and defence systems, he said. It could carry up to 10 nuclear warheads, each of which could be directed to a different target with an accuracy within 100m.
Military experts cited in Chinese media say the fourth-generation Dongfeng will offset the deployment in South Korea of the US-managed Terminal High Altitude Air Defence anti-missile system, which Beijing claims is a threat to China's defence platforms.
The Global Times cited PLA sources as saying such a powerful weapon was aimed to create a "balance of horror," deterring China's enemies from using ­nuclear missiles since "no country can bear the consequence of nuclear war". The US, however, maintains a considerable lead in the number of nuclear weapons, according to former PLA rocket force officer Song Zhongping.
The crucial eighth test of the DF-41, five years after the first, is believed to have been carried out last month, shortly before the visit of US President Donald Trump.
The test was carried out in a desert region of China's comparatively unpopulated northwest, with air traffic over the region being banned at the time.

[pt_view id="517b65fj16″]