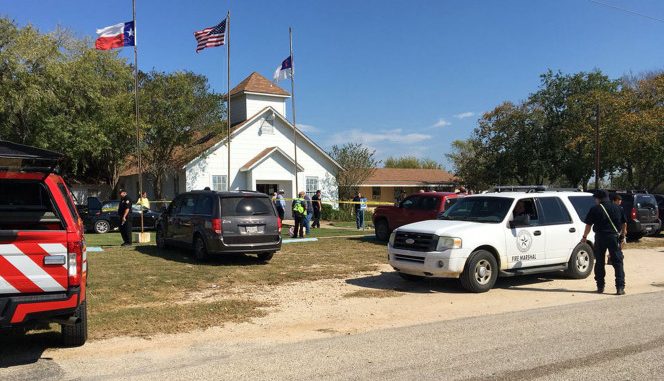 NEW YORK POST & BBC REPORT
As many as 27 people were killed and two dozen more injured when a gunman opened fire inside a crowded Texas church Sunday morning, according to reports.
The shooter, who has not been identified, walked into the First Baptist Church of Sutherland Springs just before noon and began firing, officials said.
One of the shooting victims is a 2-year-old child, the Dallas Morning News reported.
The carnage may have been caught on camera, as the church frequently live-streams its services on YouTube, according to CNN.
Wilson County Commissioner Albert Gamez, Jr. said up to 27 people died and 24 more injured, according to WKLY.
The shooter was "taken down" and killed, authorities said.
"Our prayers are with all who were harmed by this evil act," Texas Gov. Greg Abbott posted on Twitter. "Our thanks to law enforcement for their response."
The town is about 30 miles southwest of San Antonio.
The violence comes just a month after the US's worst-ever mass shooting — when madman Stephen Paddock opened fire on an outdoor Las Vegas concert on Oct. 1, killing 58 and injuring hundreds.
With Post Wire Services