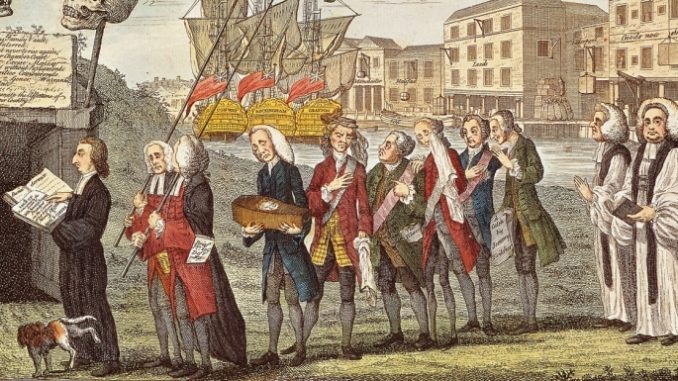 The first public statement against the British Parliament's Tea Act was a document printed in the Pennsylvania Gazette on this day in 1773. The document became known as the Philadelphia Resolutions.
The Tea Act of 1773 was a bill designed to save the faltering British East India Company by greatly lowering its tea tax and granting it a virtual monopoly on the American tea trade. The low tax allowed the company to undercut even tea smuggled into America by Dutch traders, and many colonists viewed the act as yet another example of taxation tyranny. In response, the "Philadelphia Resolutions" called the British tax upon America unfair and said that it introduced "arbitrary government and slavery" upon the American citizens. The resolutions urged all Americans to oppose the British tax and stated that anyone who transported, sold or consumed the taxed tea would be considered "an enemy to his country."
On December 16, 1773, two months after the publication of the resolutions, a group of Massachusetts colonists disguised as Mohawks boarded three British tea ships and dumped 342 chests of tea into the harbor in what is now known as the Boston Tea Party.
Parliament, outraged by this blatant destruction of British property, enacted the Coercive Acts—called the "Intolerable Acts" by the colonists—in 1774. The Coercive Acts closed Boston to merchant shipping, established formal British military rule in Massachusetts, made British officials immune to criminal prosecution in America and required colonists to quarter British troops. The colonists subsequently called the first Continental Congress to consider a united American resistance to the British.