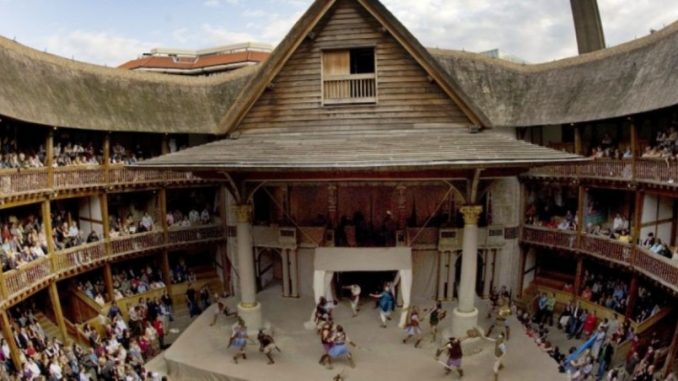 On June 29, 1613, staged cannon fire during a performance of "Henry VIII" ignited a fire that burned the Globe Theatre to the ground.
The Lord Chamberlain's Men, an acting troupe featuring playwright William Shakespeare, performed its plays at the Blackfriars Theatre, built in 1576 by troupe member James Burbage. However, in 1597 the landlord at Blackfriars ordered the troupe out, forcing them to construct a new playhouse.
James Burbage and his brother Cuthbert, citing a provision in their lease, were allowed to dismantle the Blackfriars Theatre and move its oak beams across the Thames River to Bankside, where the beams were used to construct the Globe Theatre.
Opened in 1599, the Globe was a three-story, open-air theatre that could accommodate 3,000 spectators. The stage, measuring more than 40 feet wide and 25 feet deep, stood five feet above the ground, rising above the central courtyard where about 1,000 "groundlings" watched the play. The stage was surrounded by a ring of balcony seating covered by a straw roof.
The first play performed at the Globe was Shakespeare's "Julius Caesar." Over the next 14 years, many of his most famous plays, including "Hamlet," "Twelfth Night," "King Lear" and "Macbeth," would be performed there.
Above the main entrance was a sign saying "Totus mundus agit histrionem," which roughly translates as "all the world's a playhouse" or "all the world's a stage," a reference to the line in "As You Like It."
The Bankside neighborhood stood on the "wrong side" of the Thames, in an area "frequented by prostitutes, pickpockets and other unsavory people," according to Cummings Study Guides. Nevertheless, the Globe attracted many of society's elites to sit in its balconies.
"The Globe Theatre was a democratic institution, admitting anyone—whether a baron, a beggar, a knight, a candlemaker, an earl, a shoemaker, or a strumpet—if he or she had coin of the realm to drop in a box before entering," writes Cummings Study Guides.
Productions of the era typically had "no backdrops, no lighting to speak of, horrible acoustics, and few if any props," according to Absolute Shakespeare, but cannons were used occasionally. During a production of Richard III on June 29, 1613, the firing of a cannon ignited the straw roof, setting the Globe ablaze.
The troupe rebuilt the theater across the Thames, completing it a year after the original burned down. Having learned from the original's fate, builders used tiles for the roof of the second Globe instead of thatched straw.
The rebuilt Globe operated until 1642, when the Puritans, believing theaters were places of "evil sin" rather than entertainment, shut it down, says Absolute Shakespeare.