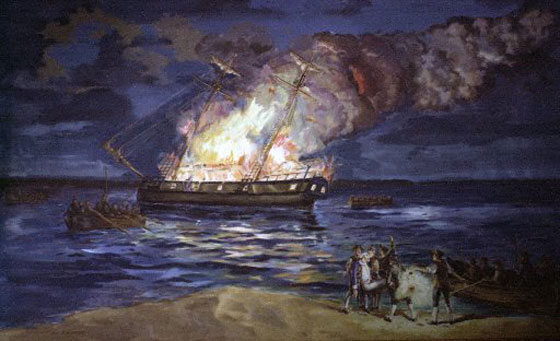 On this day, June 9th, 1772, colonists, angered by the British Parliament's passing of the Townshend Acts restricting colonial trade, blacken their faces and board the HMS Gaspee, an armed British customs schooner that had run aground off the coast of Rhode Island. They then wounded the ship's commander and set it aflame.
The Gaspee was pursuing American Captain Thomas Lindsey's packet from Newport, when it ran aground off Namquit Point in Providence's Narragansett Bay on June 9. That evening, John Brown, an American merchant angered by high British taxes on his goods, rowed out to the Gaspee with eight long-boats with muffled oars and as a many as 67 colonists and seized control of the ship, shooting its Scottish captain, Lieutenant William Dudingston, in the abdomen. After sending the wounded captain and his crew to shore at Pawtuxet, the Americans set the Gaspee on fire.
When British officials arrived in Rhode Island to investigate the incident and send the perpetrators to Britain for trial, they found no one willing to identify those involved and the inquiry closed without result. The idea that the perpetrators would not be tried in the colonial justice system deeply angered the colonial assemblies, which established permanent committees of correspondence for the purpose of inter-colonial communication. They hoped to be able to learn of British plans to restrict Americans rights before the empire had time to act against colonial freedom. Colonists now feared a British conspiracy against their liberties.
Each year Pawtuxet Village remembers the burning of the HMS Gaspee with the month-long festival "Gaspee Days," which includes a parade and a symbolic burning of the schooner.