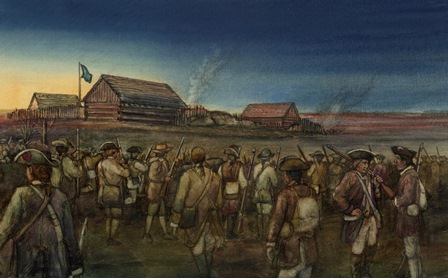 On this day, May 22nd, in 1781, Major General Nathanael Greene and 1,000 Patriots attempt an attack on the critical village of Ninety-Six in the South Carolina backcountry. After failing to seize the fortified settlement, they began a siege of Ninety Six, which lasted until their retreat on June 18, making it the longest of the War for Independence.
Ninety-Six, on the Saluda River, was critical for the defense of the northwest portion of the state and the most strategically important position in South Carolina after Camden. It was manned by 550 Loyalists commanded by British Lieutenant Colonel John Harris Cruger. The Patriots lay siege to the city beginning on May 22, using siege lines–trenches and structures built for the use of the besieging army and its artillery–which were designed by the Continental Army's noted engineering talent Thaddeus Kosciusko and are considered the best example of their kind in the United States.
When the Patriots learned that British Lieutenant Colonel Francis Rawdon was on his way to reinforce the Loyalists, they began a preemptory assault led by Major General Nathanael Greene on June 18. Unable to breech the defenses at Ninety-Six's Star Fort, the Patriots were forced to retreat, with 185 Patriot casualties to a mere 75 for the Loyalist defenders. Lord Rawdon arrived and General Greene withdrew on June 19.
Although Greene failed to remove the British from Ninety-Six, he and Brigadier General Francis Marion of the South Carolina militia were remarkably successful at taking back other British outposts, capturing five others before their attempt at Ninety-Six. By the time the time the British left Ninety-Six of their own accord, on July 1, 1781, it was the last Loyalist fort in South Carolina.