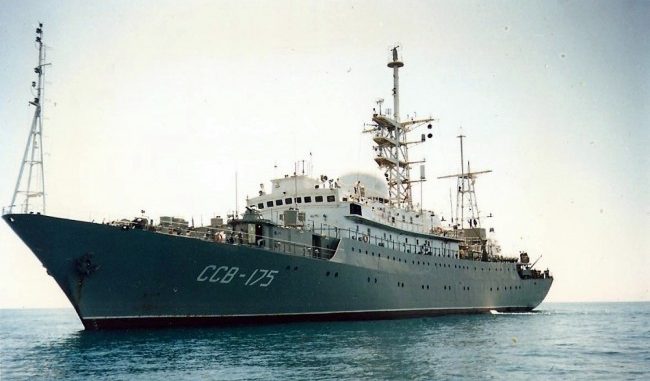 A Russian spy ship is sitting off the coast of Long Island at this time. The Viktor Leonov is a Vishnya class ship which is a Signals Intelligence ship, designed to intercept military communications. The ship's markings for SSV175 are actually painted as CCB-175, due to the Cyrillic alphabet. SSV indicates it as a "communications vessel"
The Russian spy ship about is 30 miles south of Groton, Connecticut (where we have a submarine base). The Groton Base is referred to as the Submarine Capital of the world. The Leonov is in international waters and can lawfully be there, but it is one of those things the Navy is keeping a close eye on. Sources say, the surveillance ship is primarily stationed in the black sea, but has recently been on a mission along the Atlantic coast, where it made a stop in Cuba. In a pic of the ship, one can clearly see a dome, which contains antennas and dishes inside.
The ship was built in Poland and was commissioned in 1988 for the Soviet military. Leonov is 310 feet long, with a 48 foot wide beam, and a draft of 14.8 feet. It displaces 3,470 tons, and is propelled by two diesel engines giving it a top speed of 16 knots. While primarily a communication ship, it is armed with two AK-630 30mm guns, and two SA-N-8 surface to air missile systems. The Leonov has a crew of 146 people and a cruising distance of 7,000 nautical miles.
Russia has always had an interest in US Subs, so while the US is keeping an eye on the vessel, there is little surprise that it is lingering in the area. The US, also no stranger to these types of tactics, frequently patrol the Russian coast in the Black Sea, where the USS Porter, a Naval Destroyer was recently buzzed by armed Russian War Planes.
Russia has a history of testing US air defenses in the Pacific as well, where a rash of incursions by Nuclear Capable Bombers have come close to or penetrated US air space.
[adrotate banner="24″]

[pt_view id="517b65fj16″]